Boston Terriers are great additions to any family. If you're considering bringing home a new Terrier dog, chances are you're wondering what name to give to your adorable puppy. My guide will help you pick the best Boston Terrier names. 
Best Boston Terrier Names
Are you searching for the perfect Boston Terrier name? I've got you covered. Note that names can be inspired by their compact build, color, and more. Before I share with you some creative names, allow me to give you a few tips on how to choose the perfect name.
How To Select the Right Name
Like most new dog parents, probably you don't know how to pick the right name or you're not sure if the name you have already chosen suits your dog. Worry not! Here are some tips to help you.
Choose an Easy Name: Some names sound great. However, they're difficult to pronounce. Before you settle on a certain name, ensure it's easy to pronounce because you will be calling it a lot.
Shout the Name Loudly: Practice calling your dog's name loudly. If you don't enjoy calling it, then it's not the perfect name and you should come up with another name.
Ensure It Suits Your Dog's Gender: The name you pick should fit your dog's gender and personality. For example, you can't give a female dog a name that's meant for male dogs.
Trust Your Gut: Once you find the perfect name, you'll enjoy calling the name.
If you still have trouble deciding, bear in mind that Boston Terrier names can come from different sources including dog breed history, celebrities, or even your favorite food.
Boston Terrier Names That Reflect Their Compact Build
These cute names reflect Boston Terriers' compact build. Check them to see if they suit your new puppy.
Shorty
Smalley
Tiny
Punny
Bitty
Baby
Little
Teensy
Elf
Runt
Funny Boston Terrier Names
When searching for Boston Terrier names, I recommend choosing comical names that will make people laugh. Some funny dog names include:
Rambo
Biggie
Diesel
Moose
Rebel
Goliath
Killer
Butch
Puddin
Hunter
Names Inspired by Boston City
Another great idea is to select names inspired by Boston city. In fact, 5% of dog owners name their puppy after a city or famous sports team. Such names include: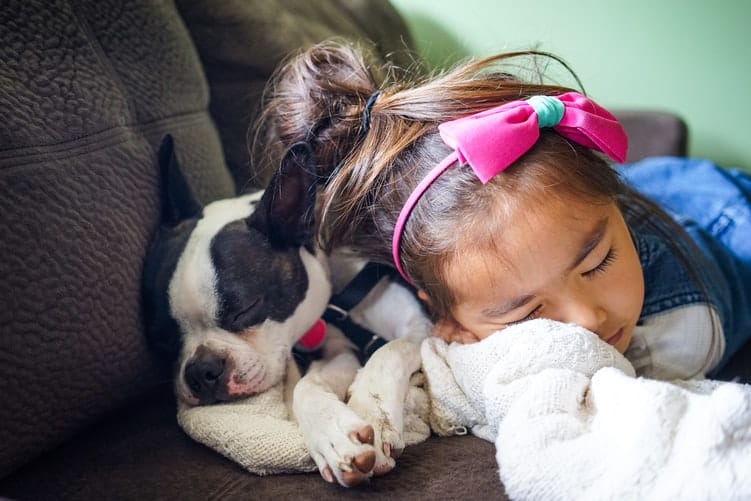 Southie (a name for South Boston residents)
Bruin (Boston's professional ice hockey team)
Bean (another name for Boston)
Red (Boston's professional baseball team)
Celtic (Boston's professional basketball team)
Names Inspired by Boston Terrier Color
The Boston Terrier breed is a combination of white and either seal, brindle, or black. So the dog's color can also inspire you when picking cute names.
White and Black Boston Terrier Names
If your dog is black and white, these names suit them.
Tuxedo
Penguin
Checkers
Harlequin
Panda
Puffin
Minnie
Domino
Snoopy
Cookie
Brindle Boston Terrier Names
Brindle is the second most common Terrier color. This beautiful color lends itself to unique names like:
Pebbles
Speckles
Freckles
Snickers
Patches
Historic Boston Terrier Names
Most dogs can't trace their lineage to one specific dog, like Boston Terriers. Some names inspired by the breed's origin include:
Judge: The name of the first Boston Terrier
O'Brien: Judge was sold to William O'Brien
Hooper: O'Brien sold Judge to Robert C. Hooper
Gyp (White Bulldog): Judge was crossbred with Gyp to produce Boston Terriers
Burnett: Gyp was sold to Edward Burnett
Eph: Gyp and Judge's puppy
Boston Terrier Names Inspired by Gender
You can also choose names depending on your dog's gender.
Names for Male Boston Terriers
Male Boston Terriers are adorable dogs that deserve the following names:
Cooper
Charlie
Hank
Coach
Alfie
Max
Finn
Henry
Mickey
Rascal
Names for Female Boston Terriers
Female Boston Terriers also deserve the following trendy and stylish names:
Hazel
Bella
Daisy
Amelia
Happy
Lily
Sophie
Macy
Zoey
Rosie
How To Teach a Dog Its Name
Now that you have a name, how will your dog recognize it? Most puppy parents go through this moment. Fortunately, it's easy to teach dogs their name. Follow these steps.
Put your puppy on a leash in a quiet place and then get some treats
Pronounce your dog's name in a clear, excited voice
Immediately your dog looks at you, respond by saying "yes" and give them a treat
If they look away, repeat the process 4-6 times
Keep calling the name several times each day and soon they'll know their name and start responding to it
20 Reasons Why The Boston Terrier Is The Best Dog Breed Ever
Conclusion
Looking for a name for your new dog is fun and exciting. Just make sure the name is easy to pronounce and fits your dog's personality.